Prep School, AGES: 6-10 (YEARS 2-6)
On 31 August 2022, Lady Eleanor Holles International School Foshan (LEH Foshan) officially launched its Prep School to extend its excellent British education to younger students of families from Hong Kong, Macau and Taiwan and foreign countries working and living in the Greater Bay Area.
Highlights of Prep School
LEH Foshan Prep School offers day and boarding options to students aged 6-10 from Hong Kong, Macau, Taiwan and foreign countries, and offers a globally recognised British education to help them build a strong academic foundation for later secondary school years.
● 100% British Teachers
Head of Prep School Ms Mandy Bateman graduated from Cambridge University and has worked in both private and public schools in the UK. She leads a teaching team all having a background in educating young students in the UK and China.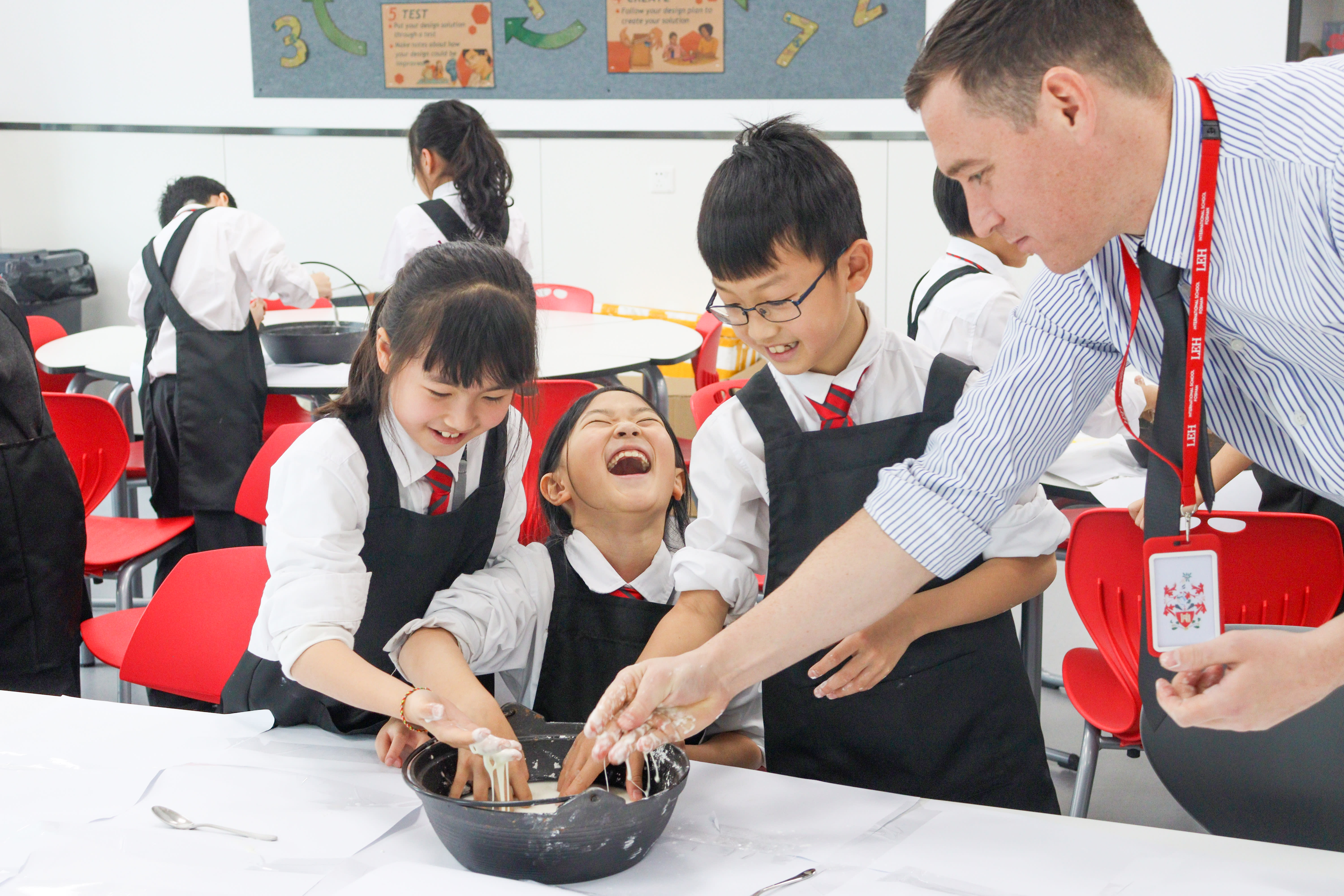 ● A Truly British Curriculum
The Prep School will offer a unique and intensive British curriculum based on the British National Curriculum and incorporates the local Lingnan culture. In the classroom, teachers adopt the thematic learning approach to teach five core subjects including English, Mathematics, Science, History and Geography.
Each Class teacher is supported by teaching assistants, not only in classroom teaching but also in pastoral guidance. There are also subjects of Spanish, Chinese, Art, Music, Drama, Sports, and Computer Science delivered by specialist teachers to enhance the students' learning opportunities.
● Immersive English Learning and Individualised Support
In the Prep School, all lessons will be conducted in English (except Chinese and foreign language lessons). Small-size classes ensure that each teacher can gain a firm knowledge of his or her student's strengths and challenges and design highly individual learning plans for them. Students will be able to take advantage from the plan and improve their English skills for future study.
Students will also benefit from the English Language Learning (ELL) Programme carefully designed by the Headteacher Mrs Jane Arden and with the support from the in-house English Language Acquisition team this helps develop their holistic language skills in reading, writing, speaking and listening. This allows them to fully engage in the school's British Curriculum.
● An Authentic and Home-Felt British Boarding Experience
LEH Foshan is the first Day and Boarding British International School with House System in Guangzhou and Foshan Area. To ensure student's sleeping quality, the school was imported high quality beds and Mattress from UK. In addition to a full day of learning hours, boarding students can also benefit from evening and weekend activities and teacher-supervised evening school.
● Holistic Education with an Exciting Range of Daily Extra-Curricular Activities
LEH Foshan offers a holistic education to all students, with two daily extra-curricular activities inclusive of sports (such as football, rugby, swimming), creative arts, lion dance, music, drama, robotics, Chinese classics, etc. offering them the opportunity to discover their hobbies and giving them both physical and emotional space to develop and express themselves.
Ms Mandy Bateman
Education Background
BA in Education (Staffordshire University)
PGCE (Edge Hill University)
MA SEN Education Cambridge UK
Ms Bateman has 30 years of experience as an educator and leader in both British and international schools in the UK, Portugal, and Egypt. Her journey in education has been wide-ranging. In 2009 she established herself as a leader when she became a founding Headteacher of an independent school in the UK.
Welcome from the Head of Prep School
Start the year as strangers… end it as family…

Here at LEH Foshan, we aim to make learning exciting, fun and motivating for all our pupils – as well as enhancing our teachers' enthusiasm and passion for teaching. We want our pupils to see learning as holistic and interwoven, which leads towards mastery and deeper understanding of the world around them....We encourage our students to be exactly who they are, whatever their current interests or future aspirations. They will benefit from the warmth, respect, and support of the entire School community as they stretch themselves to become their best, most confident selves, as pupils, students, and as citizens of the world. To have the freedom to experiment, express opinions, explore and take on new challenges. To be supported by strong role models and be inspired by their peers. To find the confidence and be able to acquire and build the skills they need to succeed throughout their lives.

We are a British international school that whilst being contemporary is firmly in the tradition of our sister school in the UK. We share its exemplary standards of achievement, care and governance and enjoy all the advantages of our location. We encourage our students to combine academic excellence with integrity, confidence, courage, and conviction; to exemplify the school motto, Spes Audacem Adjuvat (Hope Favours the Bold).

In addition to achieving academic success, we encourage students to commit to finding a deeper level purpose that transforms society in a meaningful way. We offer all our students with a highly dynamic, progressive, and personalised learning programme and provide consistency of curriculum and learning between different classes in any year group with appropriate vertical articulation and through providing appropriate overall information on the academic performance of the school. We ensure appropriate support and challenge for all students in identifying their interests and talents, and maintain extensive communication to parents on overall and specific curriculum planning, learning objectives and appropriate feedback on individual student progress, whilst concurrently ensuring that a "listening culture" permeates all that we do.

LEH Foshan is an outstanding school where each student's happiness, well-being and success is paramount. By focussing on the individual, we aim to instil into each student the belief that they can achieve anything. Academic standards are high, and we are proud of the fact that when our Year 6 pupils are ready to move up to our Senior School, they take with them a set of skills and core values that will enable them to embark on the next stage of their educational journey confidently and courageously.

Our own Prep School site provides a friendly, safe and nurturing environment for the pupils and we are fortunate to share the excellent facilities at our Senior School, including the sports fields and courts, swimming pool and theatre. A busy extra-curricular and fixtures programme provides interesting opportunities to learn something new, develop talents or simply spend time having fun with friends.

To meet our friendly team of staff and pupils and to learn more about life at LEH Foshan Prep School please book a visit at one of our Open Mornings.

I look forward to welcoming you.
A Busy, Happy & Purposeful School Life
We have purpose-built areas within the school to participate in many activities
Prep School students will have 2- one hour ECA sessions. The overarching ethos of the ECA programme at LEH is to support students to develop into young adults that have the confidence and skills to further pursue activities they enjoy as part of an active, healthy lifestyle.
Specialist teachers will also be available for prep sessions where homework will be completed. We also offer the opportunity for flexible boarding daily.
Pastorally we will nurture remarkable young men and women with focus on four keywords - Hope, Opportunity, Challenge, and Friendship.
We will provide our students with personalised support and celebrate achievements and successes to build confident global citizens.
Provide an appropriate challenging personal and social education curriculum with emphasis on the importance of compassion as a human trait.
Provide our students with real life stories about compassion and facilitate opportunities for our students to be compassionate both inside and outside of school.
Provide our students with appropriate rewards and encouragement, including public praise, for always acting in a compassionate manner.
Provide understanding and acceptance that each child is different with diverse cultures, capabilities and potential and help them in keeping in mind all these things; whilst providing an understanding that relationships/friendships are the most important aspect of the educational process for our students to develop and learn.
In Prep School we want to develop a culture of family pride with academic excellence and achievements alongside well developed characters and pastoral wellbeing.
We will encourage the children to have high expectations and to contribute towards, reflect on and shape their role as learners - in addition to being responsible members of the school, the local and the wider community.
We will enthusiastically develop Prep School students' interests and passion for learning, leading them into our exemplary Senior School becoming leaders graduating to embark on careers at the world's leading universities.